How to Rethink the ATM Role and Make it Sustainable and Relevant in Post Cash Dominance Times
ATMs were the first anytime service introduced by banks, and have been around for more than 50 years. They are vastly perceived to be simple cash dispensers, and while still needed, one might think that they are becoming costly and with diminished importance.
In Europe, the total number of ATMs has been decreasing since 2017, according to Statista, which is not surprising, with the growing number of cashless transactions. Outdated UX and often limited capabilities of a relatively big machine are also lagging behind the cute and easy applications and mobile wallets taking a considerable share in the payment territory.
On the other hand, the vast majority of countries are not willing to move to fully cashless societies, so ATMs are likely to stay in their modernized and more cost-effective manner.
How to improve your ATM network to face the new needs?
Let us start by stating the obvious – the primary role of ATMs will remain the same – cash dispensers. What will determine the future purpose and profitability can be divided into 2 directions:
Physical capabilities
"Brains" – extended added value services, that will take on some of the banking services traditionally conducted in (reducing number of) physical branches.
Physical capabilities
Newer models of ATMs are already future-proof in some segments that proved to be challenging for the ATM industry, with several key functionalities:
Recycler function and larger deposit capacity – being able to take in more and dispense from the same cassette means less trips to refill the unit.
Modularity – start from the basics and upgrade later, as seen in the DieboldNixdorf DN series, where the modular design allows for agile upgrades, such as transforming the regular ATM into a recycler machine later on
Better looks, better UX: larger, attractive screens to make the transactions easier for customers, leaving the room for more noticeable advertising.
Connectivity and video teller capability to be able to take on some of the branches' services
Cardless access and withdrawal, especially welcomed during times when we try to avoid contact with all sorts of surfaces.
DieboldNixdorf, one of the leading ATM producers in Europe with Payten as its trusted distributor in the region of South-east Europe, has tackled all these functions and much more with their DN series ATMs, offering smart and appealing design with a safe and flexible machine build. Several banks in the region are already seeing the benefits of their innovative machines, primarily through added value funcionalities and greater physical security of the machine.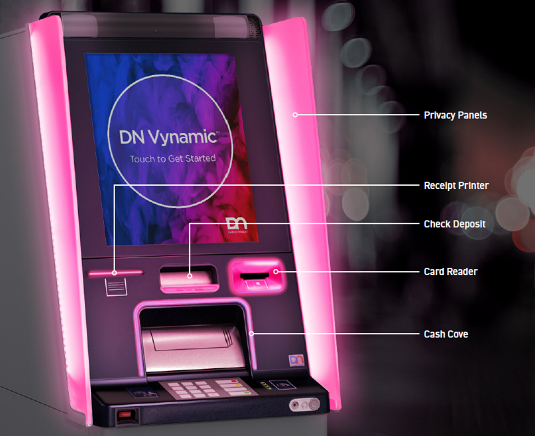 "Brains" – it pays to add value and personalize the services
With the above-mentioned internet connectivity and video teller capability, there is a wide array of added functions ATMs can perform, and customers would welcome.
Let's see how things look today – a person approaches the ATM, draws the cash, ignores the irrelevant ads and goes away. If the neighborhood features the older machine, you might even see them tapping nervously as they wait for the machine to process the request, as it does not happen fast.
And now – how it might look…also today
Marko is a young adult, and he sees that new ATM by his house…shiny and bright, he decides to give it a go…upon identifying, he is greeted by a personalized message: "Hi Marko" followed by a screen with his most used functions. He withdraws some cash and sees he can also exchange currency, so he buys 50 Eur for the upcoming concert in Austria. His account is now approaching zero, but he remembers he can ask dad to send him the money, which dad does, using his phone. Marko types in the code he received via text and withdraws the money. And all this with the same UX as on his mobile application.
Tomorrow, Marko is low on his prepaid mobile credit…he rushes to the ATM again and tops up. While he is taking the receipt – he sees the ad he actually cares to see – about the new car loans, which he was about to research. He scans the QR code and reads some more information on it.
Marko's dad recently paid a useless trip to the branch, only to see it has changed the working time. But luckily, there is a piece of information on the door – he can now pay his bills using ATM, anytime, so he goes on and completes the task simpler, and at his own convenience. Little does he know, tomorrow he will be able to make a video call with an actual teller and do even more.
These are just a few examples that clearly indicate there are a lot of new uses available for ATMs, which might become a valid substitute for many branch services. Added value functionalities can be offered by a smart system like TermHost by Payten, which offers both sides of the process:
TermHost Core - an inter-server platform satisfying the requirement for faster and simpler realization of ATM transactions which are not supported by a Bank Card Processor, or whose realization is more complicated in direct connecting with the host. In this manner, terminals can be connected with the bank's core database, service providers, CRM database, Loyalty database or services which can be at any place and which could provide to an ATM or info terminal user insight into information or service purchase abilities. Basically, TermHost enables the connection of ATMs and info terminals with various servers and services. TermHost simplifies the connection of a terminal with any host system, whereas in general the complex host system does not have to suffer any changes when new functionalities are implemented on these terminals.
TermHost modules that provide the desired added functionalities:
Foreign Exchange
mCash
Campaigns
Personalized transaction
Bill payment
Statement print
Cashin online (direct to Core)
GSM TopUp
P2P
Having the right infrastructure and software is critical, and can make the ATM network a profitable channel. Making the units the most direct touchpoint with a bank, ATMs can take over many of the services previously managed through branches.
Thinking of modernizing the ATM network?
Start with choosing an experienced partner – Payten. Payten is a regional DN partner for South Eastern Europe, offering end to end ATM management and own proprietary TermHost software. With our wide experience, we can offer tailor-made upgrade and ATM management to create the optimal ATM network, regardless of the current infrastructure and business goals.
Contact us for a free consulting call or find out more on our website.